Best Locations for Buying 3 BHK Flats in Zirakpur
Want to buy a spacious and luxurious 3 BHK flat or 3+1 BHK apartment in Zirakpur? With numerous options to choose from, finding the perfect location can be overwhelming. But worry not! We have got you covered with our comprehensive guide on the best locations for buying 3 BHK flats in Zirakpur. Whether you are a first-time buyer or looking to upgrade your current living space, this blog post will provide valuable insights and tips to help you make an informed decision. So let's dive right into it!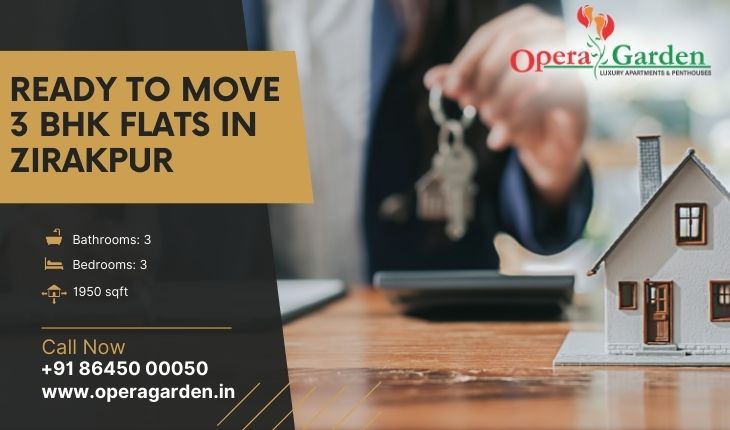 Best Location for 3 BHK Flats
Finding the best location for a 3 BHK flat is crucial for ensuring a comfortable and convenient lifestyle. When it comes to Zirakpur, there are several areas that stand out as excellent options.
One of the top locations to consider is VIP Road, which offers easy access to key amenities such as hospitals, supermarkets, and educational institutions. The area also has good connectivity with Chandigarh and other nearby cities.
Another popular option among buyers is Ambala-Chandigarh Highway due to its strategic location between Delhi and Punjab. The area boasts excellent infrastructure and facilities such as shopping malls, restaurants, banks, parks, school, college, hospital and mall etc.
Selecting the best location depends on your individual preferences and requirements. However VIP Road, Ambala-Zirakpur Highway, Gazipur Road offer some of the most sought-after locations in Zirakpur when it comes to buying a 3 BHK flat or 3+1 BHK flats.
Why Zirakpur?
Zirakpur is a rapidly developing city in the Mohali district of Punjab. It has become a popular residential destination for people who want to stay close to Chandigarh but away from its hustle-bustle. With well-planned infrastructure, good connectivity and affordable pricing, Zirakpur offers an excellent opportunity for homebuyers looking for 3 BHK and 3+1 BHK flats.
One of the main reasons why Zirakpur has emerged as a favourite among buyers is its strategic location. The city connects three states – Punjab, Haryana and Himachal Pradesh – making it easily accessible from different parts of North India. Moreover, it lies on the Chandigarh-Delhi highway which adds to its convenience factor.
Another reason why Zirakpur is gaining popularity among property buyers is because of its improved social infrastructure. The city boasts numerous schools, hospitals, banks, restaurants and shopping complexes which makes daily living easier.
With new developments coming up in Zirakpur such as international airport expansion plans and metro projects in pipeline; this suburban town shows great potential for appreciation in value over time thus attracting more investors into buying properties here.
All these factors make investing in a 3 or 3+1 BHK flat at Zirakpur an attractive proposition that shouldn't be missed!
Where to find the best 3 BHK flats in Zirakpur?
Chandigarh is a well-planned city, and finding the best 3 BHK flats can be challenging. However, there are several areas in Chandigarh where you can find some great options.
Zirakpur has emerged as an ideal place for families looking to buy their dream home due to its proximity to various schools, hospitals, shopping centres and more.
Another area that offers fantastic options for 3+1 BHK flats is Mohali. With many high-end residential projects being developed here in recent years, Mohali has evolved into one of the most desirable residential locations around Chandigarh.
Conclusion
Finding your ideal 3 BHK flat or 3+1 BHK flats will depend on your preferences regarding location, style and budget. So do your research carefully before making any decisions!
If you're after luxury living with world-class amenities like swimming pools and clubhouses, then New Chandigarh may be perfect for you. Located on the outskirts of the city but still within close proximity to all essential services and facilities; this suburb offers residents a peaceful environment while also providing easy access via highways and expressways.