One of the most common questions for people looking to rent or buy a home is whether they should go for a flat or an apartment. In many cases, these two types of accommodation are quite similar and often used interchangeably, leading to some confusion.
If you're trying to decide between a flat and an apartment, it pays to understand the differences between the two. We'll look at their common features and differences in size, amenities, price, and more, so you can make an informed decision when looking for your perfect home.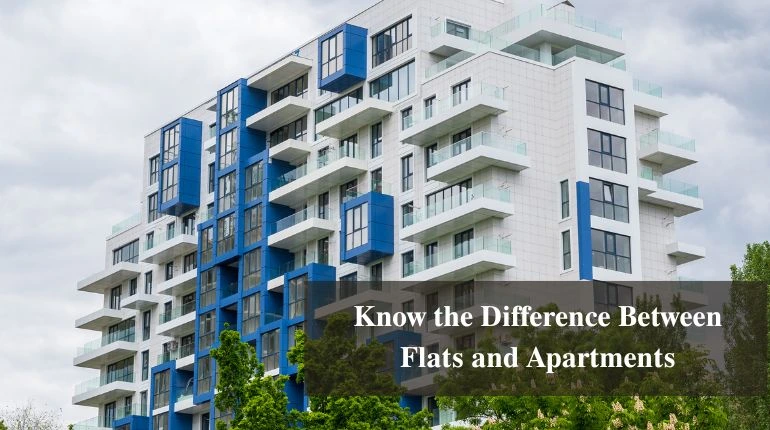 WHAT IS A FLAT AND AN APARTMENT?
When it comes to residences, there are two main options: flats and apartments. But what's the difference between them?
Flats are more common in British English, and they typically refer to a single unit located in a private residence. Flats come in different forms, but they are usually one-bedroom properties that do not have access to communal areas like gardens or pools.
On the other hand, apartments meaning often have more than one bedroom, and they may come with access to amenities such as fitness centers or swimming pools. Apartments building tend to be located in larger residential complexes that can house multiple units on the same premises.
It's important to note that these terms are not necessarily interchangeable—flats and apartments complex may share some similarities, but each one offers distinct benefits.
DIFFERENCE BETWEEN A FLAT AND AN APARTMENT IN TERMS OF SIZE
In the India, flats are typically smaller than apartments. This means that flats typically feature one or two bedrooms, a living room and kitchen, with some having separate bathrooms. On the other hand, studio apartments in the India generally have larger living areas with two to three bedrooms, as well as a living room and kitchen.
No matter where you are located though, it's always worth comparing different properties before committing to one!
DIFFERENCE BETWEEN A FLAT AND AN APARTMENT IN TERMS OF LAYOUT
FLATS
Generally speaking, flats are laid out in an open-plan format, meaning that the main living space, such as the kitchen, dining room and living room are combined into one large space. This allows for more flexibility when it comes to designing your space, making it great for when people want to get creative with their interior design. Additionally, most flats usually have one or two bedrooms and a single bathroom.
APARTMENTS
Apartments can be laid out in several different ways. Some have an open-plan layout like flats do, however they can also have multiple bedrooms with a separate living room and kitchen space. This is great for families who don't want all of their separate rooms connected to each other. Apartments often come with two bathrooms too—one of which is usually an en-suite attached to the master bedroom.
DIFFERENCE BETWEEN A FLAT AND AN APARTMENT IN TERMS OF FACILITIES
APARTMENTS
Many apartments come with added features and amenities that add to the overall comfort and convenience of the space. For example, many apartments come with air conditioning, so you can stay cool during summer months without having to open a window or use a fan – something that may not be available in most flats. Some apartments also come with other features such as power back-up for when the electricity goes out, swimming pools and even gyms!
FLATS
On the flip side, flats are usually more basic than an apartment and generally have fewer amenities. Many flats have communal areas like gardens and playgrounds which can help create an enjoyable environment for the entire community. And although they may not have all of the bells and whistles that come with an apartment, they are often cheaper and provide just enough comfort so that you can go about your day-to-day activities without hassle.
At the end of the day, it really depends on what suits your lifestyle best – an affordable flat with fewer comforts or a pricier apartment with extra amenities. Think about what fits your lifestyle best – both physically and financially – before making any decisions.
HOW TO FIND THE RIGHT FLAT FOR SALE IN SECTOR 20 ZIRAKPUR ?
Finding the right flat for sale in Sector 20 Zirakpur can be a daunting task. There are a lot of things to consider – size, location, amenities, ready to move flats and so on. However, it is important to note the key differences between flats and apartments before making your final decision.
BUILDING AND ARCHITECTURE
Apartments are usually constructed as multi-storey buildings and are designed to share a common entrance, lobby and other common spaces like the garden. Flats are typically small units with individual entries located within an apartment looking building or having its own independent entrance from outside.
LEGAL OWNERSHIP RIGHTS
Apartments have separate legal ownership rights unlike flats, where all the owners share a single title deed for their property. Flats share a single legal title deed; hence all owners will have to come to an agreement for any modifications in the structure or any other legal issues related to it.
MAINTENANCE COSTS
Another key difference between apartments and flats is that maintenance cost of an apartment is dependent on the size and type of maintenance activity while when it comes to flats all owners share equal cost regardless of individual usage or facilities used by them in their respective units. Look for 3 bhk flat for sale in Zirakpur as many brokers offers best prices.
CONCLUSION
In the end, considering the size and privacy that flats provide, as well as the potential for amenities such as flats with 6 acre park and club Zirakpur, elevators, flats for sale in Zirakpur or recreational areas in apartments, it's important to consider all the factors when choosing between a flat and an apartment. No matter which type of housing you choose, understanding the difference between flats and apartments can help you make the best decision for your situation.