Chandigarh is a beautiful city known for its excellent infrastructure, top-notch educational institutes, and peaceful lifestyle. It is also a hub of the real estate industry, with many developers offering various types of residential properties to cater to the needs of people. If you plan to buy a flat in Chandigarh, consider purchasing a ready-to-move flat. This blog will discuss why buying a ready to move flats in Chandigarh is a good idea.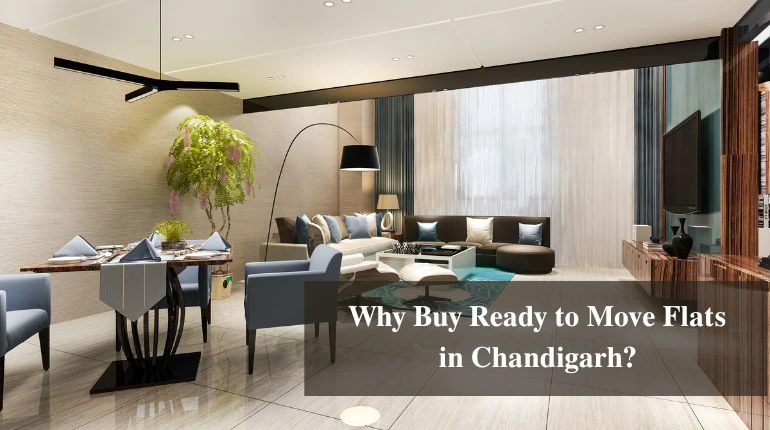 Reason to buy ready to move flats in Chandigarh: 1) Immediate Possession :
One of the most significant advantages of buying a ready-to-move flat in Chandigarh is that you can move in immediately. You do not have to wait to complete construction work, which sometimes takes years. This is especially beneficial for people who need to shift to Chandigarh urgently or want to avoid dealing with the hassle of construction delays. Moreover, if you are a working professional, buying a ready-to-move flat can save you time and money that you would otherwise spend commuting from your rented accommodation.
2) No Construction Risks:
When you luxury flats in Chandigarh, you do not have to worry about construction risks such as delays, quality issues, or disputes with the builder. The apartment is already built, and you can inspect it before purchasing. This gives you peace of mind and ensures you get what you pay for. In contrast, under-construction properties are subject to various risks. These risks involve delays due to weather conditions or labour strikes, quality issues due to using substandard materials, and legal disputes with the builder.
3) Save Money on Rent:
Buying the best apartments in Chandigarh can help you save money if you live on rent in Chandigarh. The rent in Chandigarh is relatively high, and buying an apartment can be a more affordable option. Moreover, if you take a home loan, your monthly EMI may be lower than your current rent, making it a financially sound decision. Additionally, buying a flat allows you to customize it as per your needs. This is not possible in rented accommodation. Luxury apartments in Chandigarh have a better resale value than under-construction properties.
4) Assured Quality:
When you buy a ready-to-move flat, you can be assured of the quality of construction, fittings, and fixtures. You can inspect the flat and check the quality of the materials used, which is impossible in under-construction properties. This ensures that you get a high-quality flat that meets your expectations. Moreover, many developers offer warranties and guarantees for their ready-to-move apartments, which give you additional assurance. This also provides protection against defects or damages.
5) Better Location:
Ready-to-move flats in Chandigarh Mohali are generally located in established and well-connected areas. These areas have good infrastructure, schools, hospitals, markets, and other amenities, which make them ideal for families and working professionals. Moreover, buying a flat in a prime location can also give you better appreciation potential. This is because the demand for such properties is always high.
Conclusion:
In conclusion, buying a ready-to-move flat in Chandigarh is a good idea. However, it is essential to do proper research before making the purchase decision to ensure that you get a flat that meets your requirements and budget.