Buy a 3 BHK Flats Near Chandigarh Now and Reap the Benefits of a Wise Investment Decision
Searching for a wise investment decision in the real estate market? Look no further than buying a 3 BHK flat near Chandigarh! With its booming economy and growing population, now is the perfect time to invest in this beautiful city. In this blog post, we'll explore why investing in a 3 BHK flat is one of the best decisions you can make for your future. From spacious living areas to luxurious amenities, we'll cover it all. So sit back and discover why buying a 3 BHK flat near Chandigarh should be at the top of your investment list.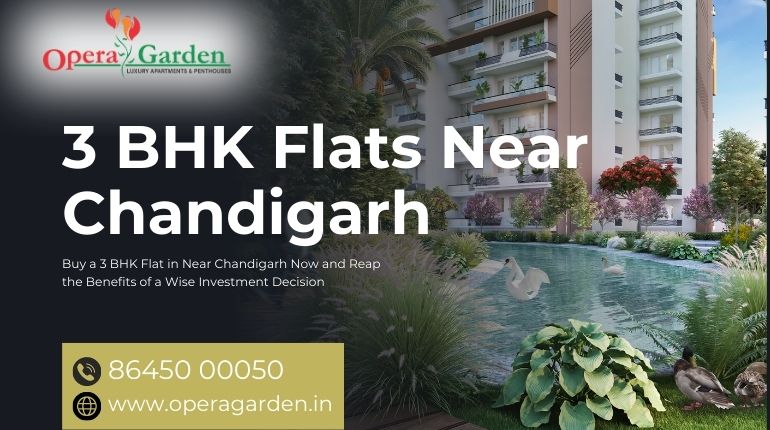 Why now is the best time to buy a flat in Chandigarh?
Chandigarh is a city that has experienced substantial growth over the past few years in almost every sector. This includes infrastructure, education facilities, healthcare systems, and job opportunities. With this tremendous development happening all around the city, investing in a flat here at this moment is indeed an excellent decision.
One reason to invest in Chandigarh now is its growing population and high demand for housing options like flats. As more people move into the city for work or study purposes, there will be a significant boost in real estate prices which makes it ideal to buy property while they are still affordable.
In addition to that, with low-interest rates on home loans currently available from various banks and financial institutions across India; buying your dream 3 BHK flat near Chandigarh has never been easier or more affordable than right now.
3 BHK flats – an overview
3 BHK flats are a popular type of residential apartment that has three bedrooms, a hall, and a kitchen. These flats are perfect for families or individuals who need more space than what is available in smaller apartments but do not require the extravagance of larger ones.
The additional room can be used as an extra bedroom or as a study/office area. The living room provides ample space to entertain guests and spend quality time with family. Additionally, 3 BHK flats usually come with two bathrooms which makes it convenient for families.
Furthermore, 3+1 BHK flats offer an extra utility room that can be utilized for storage purposes or converted into another bedroom if needed. This added bonus gives buyers even more flexibility when it comes to arranging the layout of their home.
The benefits of investing in a 3 BHK flat
Investing in a 3 BHK flat is an excellent decision for several reasons. The extra bedroom can be used as a guest room or even an office space, providing flexibility to homeowners. A larger apartment also means more living and storage space, making life more comfortable for families.
Moreover, 3 BHK flats are ideal for growing families who require additional rooms as their children get older and need separate spaces. The added privacy that comes with a bigger apartment can help promote harmony among family members.
Another advantage of owning a spacious flat is that it will increase in value over time. As the demand for larger homes grows, so will the value of your property. This makes investing in 3+1 BHK flats not only practical but also lucrative.
Conclusion
To sum it up, investing in a 3 BHK flat in or around Chandigarh is an excellent decision for those seeking to live in spacious, comfortable and modern homes. With the demand for real estate on the rise and property values increasing over time, this investment can bring both immediate and long-term benefits.
Furthermore, with amenities like gyms, swimming pools, and parks becoming a standard feature of most residential projects today. So whether you are planning to live here yourself or rent it out later on – buying a 3 BHK flat near Chandigarh now will be one of the wisest investments you ever make!